Luxe features Mayme Kratz
Natural Wonder in Phoenix
December 2017
Luxe Interiors + design
by Taryn Bickley
Working with resin for 25 years, Phoenix-based artist Mayme Kratz casts bobcat claws, snake vertebrae, cicada wings, shells and other found objects into striking and atmospheric shrines to nature. "With my art, I celebrate the endless cycles of change and rebirth," she explains. "I have great reverence for the natural world." Kratz's wall panels and freestanding columns, which have a fluid-like translucence, also often draw upon poetry and prose. "I usually start with a working title influenced by something I'm reading," she says. "A poem or set of words lead me into a body of work and this opens the door to a place of exploration."

Kratz begins each piece with a loose, abstract painting on birch wood that sets the tone for the work. After she arranges objects from nature— "sometimes from a long ago adventure in the wilderness and sometimes recently discovered," she says—the artist pours thin layers of colored resin in a process that can take four days. The result? A cumulative effect of frozen artifacts preserved in a transparent capsule. "By using resin I find the work has more of a conversation," she says. "It also has a predictability which allows me to experiment in other ways."

Originally turned off by its toxicity, Kratz found a way to use resin safely, favoring its strength and dependability as well as the luminous quality it gives her pieces, which can be as tiny as 2 by 2 inches or can tower as high and wide as 60 by 180 inches. "After many experiments, I realized resin was the perfect medium. It holds light, color and the preserved and buried objects I'm putting into it," says the artist. To reveal the grooves of a sea pod or the interior spiral of a shell, Kratz sands the resin smooth. "These are all things you don't normally witness at a distance," she observes.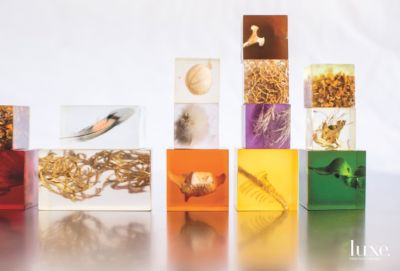 Themes of beauty, memory and longing are ever-present in Kratz's work. In her upcoming show, opening in November at the Lisa Sette Gallery, she addresses the interplay of day and night skies and the endless possibilities for "that which has gone missing, or that we cannot see." Inspired by the writings of Timothy Walsh, whose book The Dark Matter of Words explores the significance of absence in literature, some of her work draws on childhood memories of a starless city sky and musings on her own past and future. "In many ways, these works are similar to childhood play," explains Kratz, who titled one of her works Into the Face of Stars. "I'm still burying things and digging them back up, reading, writing poetry, and trying to make sense of my place in the world."
Working on an average of four-to-five pieces at once, Kratz generally spends about a year to create a new series. While her themes are consistent, they're usually expressed without premeditation or preliminary drawings. "A lot of times I feel the work before I have any vision or clue," says the artist. "It's all very introspective."